The WHO has always been hostile to e-cigarettes. They're also a prime example of organizational decay. An impossible agenda and scope creep, lackluster government funding and WHA oversight; necessitated private funding. One of the main "philantropist" donors, whilst also funding lots of useful initiatives, exerts undue influence on policy making.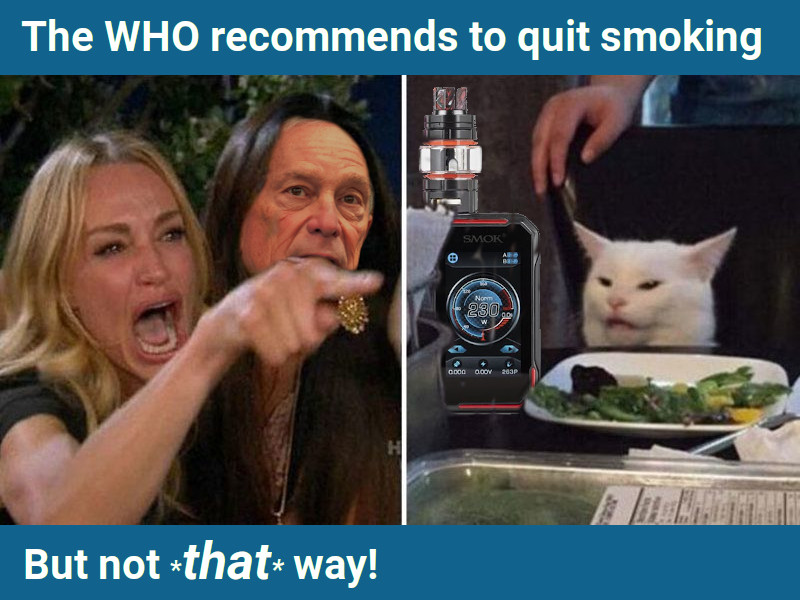 Their TFI bureau seemingly had a bit of a rollercoaster in their opposition arguments. They certainly don't represent the scientific consensus, but proxy lobbyism (TC masquerade). For intransparency legitimization, they rely on [tobacco-industry] deflectoids only.
Argument patterns
[…] vaping products contain toxic and carcinogenic chemicals🟧 and metals🟥, affect the developing brain🟥, have caused EVALI since 2012 and led to cannabis use🟥. (gsthr2020)

The WHO Report on Tobacco 2021 (Bloomberg-funded) couldn't even be bothered anymore with insinuative phrasing on EVALI:
page 36:

[…] called "popcorn lung") (47).
The outbreak of electronic-cigarette or vaping product use-associated lung injury (EVALI) in the United States in 2019–2020 highlights the potential dangers associated with these products.

page 37:

[…] ENDS that contains cannabis (or THC), is thought to have played a significant role in these cases of lung injury (64).

Appeal to groupthink: talking point of "over 50 countries have already banned" things we miscomprehend is quite prevalent
Public discourse
never answered open letters
limited public disclosure on how reports are conducted
Media campaigns
Nevermind the vaping stuff?
One could easily ignore a little bit of poor advise. If it wasn't for the other thing going on right now. But the vaping disinformation is so egregious and blatant, that you can't ignore how it influences public perception. In particular with the anti-vax BS - also born out of the US. (And you know, striking simalarities in argumentatiton patterns.)
I'm pretty sure this only affects our vaper bubble, unlikely to creep much into public perception. But it certainly can't benefit overall trust in health orgs.
---