name
Michael Bloomberg /
Bloomberg Philanthropies
state
pre-struct/alpha
class
billionaire
category
Wayne Wheeler
funding
near impossible to summarize
association
WHO/TFI, FCTC, CtFK
bloomberg ties
ehm
motivation
sunken cost fallacy
science aversion
🟥🟥🟥🟥🟧
Mike is the primary funder of US and international anti-harm-reduction FUD. He radicalized from tobacco prevention to nicotine puritanism after his tenure as NY mayor, where he originally pioneered nonsmokers protection. He became easy pray for CTFK, after waning consequence recognition.
The emphasis is on PR campaigns, and slanted study grants (BSoPH, Bath). Albeit GRO interference (Philippines) should not be discounted. His subversion of WHO policies is on an entirely different level however.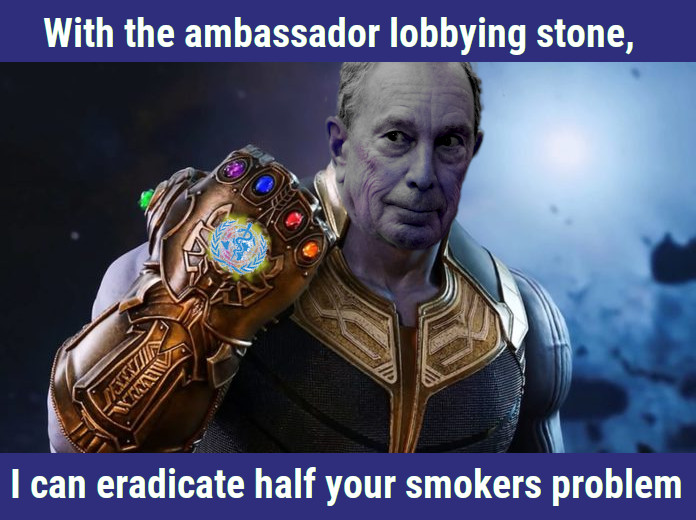 Best summary of his activities is probably:
SNW:Michael_Bloomberg
Quick recap
160M anti-vaping grants / public rationale, usage
Eschewing scientific discourse
Has since cemented his aversion to smoking reduction:
Quotes
Better let them die, whilst our insatiable research thirst is unsatisfied:
"Wait until you do the research. If it's no problem, no harm, no foul."
https://www.cbsnews.com/news/michael-bloomberg-to-spend-160-million-on-anti-vaping-campaign/
Kin liability:
"Protect Kids: Fight Flavored E-Cigarettes," include banning all flavored e-cigarettes—and stopping Juul https://www.bloomberg.org/press/bloomberg-philanthropies-launches-new-160-million-program-end-youth-e-cigarette-epidemic/
Shadowy funding network
It stands to reason that not even Mike himself fully understands all the backchannels necessary for "influencing" around the world. Just the eagle view here: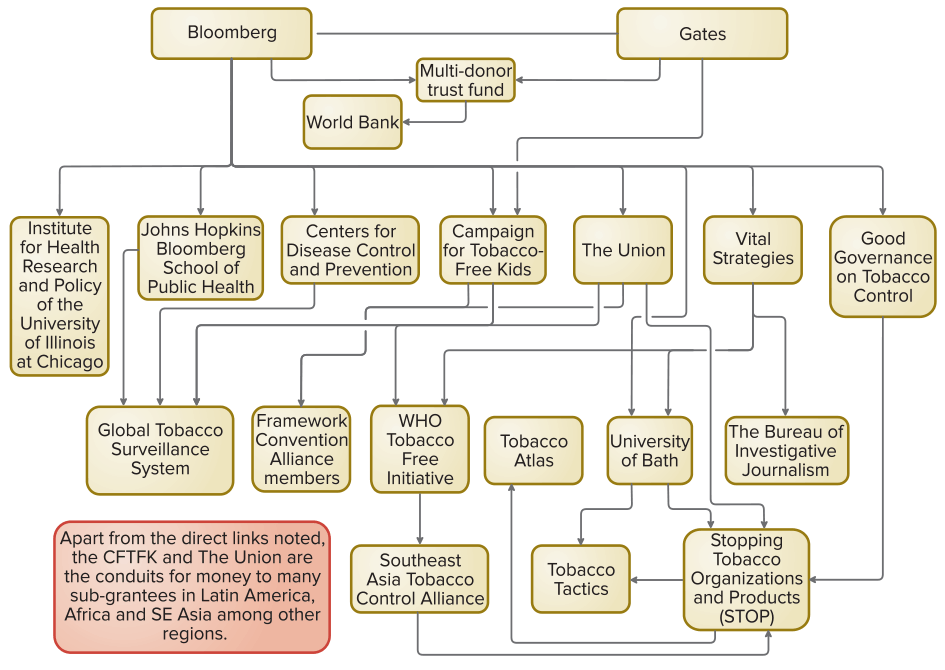 Global state of THR 2020: chapter 5
Seemingly the network is sometimes utilized even for media reporting outside of Bloomberg Media's reach, with obfuscatory clauses like:
The Contractor shall not make any statement or otherwise imply to donors, investors, media or the general public that the Foundation directly funds its activities.
Conspiracy theories
For lack of an understandable rationale, there's always farfetched musings on what is actually moving Bloomberg.
Motivation guessing
Most likely a mix of sunken cost fallacy (MPOWER: millions on dminishing returns), and being a personal anecdote (former smoker, quit the hard way, common post-quit-rationalization on detesting cigarette taste → explains thrive for flavour bans).
---
gsthr2020_pg105-1.png [download] added by mario on 2021-09-26 00:29:29. [details]